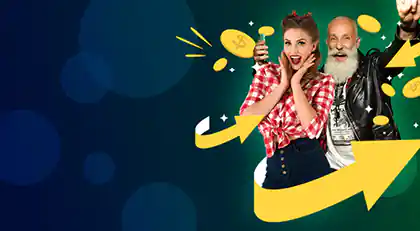 10% for an active game
every Monday
The rules of responsible Pin Up casino play and the fight against cheating
Updated: 06.02.2023
Gambling addiction (gambling addiction) is a pathological tendency to gamble for money, which can make a pleasant pastime a source of stress and money problems.
Causes that may contribute to the development of gambling addiction:
Misconceptions about gambling, developed because of big winnings;
Ignorance of the real likelihood of winning;
Inability to control wins and losses;
a difficult period in life, a crisis or a huge current change, including a job change, divorce or the loss of a loved one;
frequent feelings of loneliness and boredom;
inability to have fun in other ways;
impulsive or risky behavior, adventurous personality type;
money problems;
Lack of interests and hobbies;
presence of psychological health problems, including depression and anxiety;
Having a family member with an addiction.
People exposed to the factors listed above get sucked into the game quickly, sometimes in a matter of weeks. If there is a problem, it's hard to get rid of it without friends, family, doctors and mental health professionals. Do not be afraid to seek help so that you can be helped early in the process of gambling addiction, not when the process will be severely neglected.
And, obviously, the patient can be cured only if he personally understands his disease.
How do you define addiction?
It is difficult to trace the line where a joyful pastime turns into a drug, which besides pleasure brings a lot of problems. It is worth paying attention if the following symptoms become your personal constant companions:
The need for higher stakes;
Irritability and restlessness when stopping the game;
Repeated attempts to pause the game, keep it under control or reduce the time you spend in the casino;
intrusive ideas and impatience waiting for the moment when it will be possible to play again;
playing when anxious and worried;
high stakes after losing;
Lying to cover up gambling;
Problems at work and in personal life because of gambling;
Borrowing money from friends and relatives to play in the casino;
distracted attention;
unexpected impulsive behavior;
sociopathy;
difficulty making decisions;
problems with self-expression, explaining your own actions.
To understand if you have gambling addiction, answer these questions honestly:
Does gambling distract you from attending work or school?
Do you gamble to avoid boredom?
Do you gamble alone during a long period of time?
Has anyone ever criticized you for your passion for gambling?
Have you lost enthusiasm for your family, pals, or hobbies because of gambling?
Have you ever lied to hide the amount of money you have lost or the amount of time you have spent gambling?
Have you stolen or borrowed money in order to make bets?
Do you happily spend your gambling money on something else?
Do you gamble until you have lost all your money?
Do you feel like trying to win back your lost money as quickly as possible after losing?
Do you feel lost when you run out of money?
Do gambling lead you to depression and suicidal thoughts?
Count how many positive answers you gave to the questions. The more there are, the more likely you are to have a gambling addiction.
How to gamble responsibly?
Pin-Up Gaming Club is committed to providing our site visitors with positive memories and emotions. We are as transparent as possible in describing both the likely benefits and the risks that players bear.
The administration of the virtual casino Pin Up warns players that playing slots online is an interesting pastime, and not a way to make money. Do not take such hobbies as a primary source of income. Casino game is an opportunity to spend your free time in an interesting way. Above all, it is a method of relaxation, and a big win is only a likely nice prize.
Principles of Responsible Gaming
If you wish to avoid disappointment and depression, make informed decisions, stay at the casino with a light heart and leave when you feel like it, follow these principles:
If you lose, don't spend it all in one evening just to get even. The casino will be open the next day, and you can try your luck again.
Think of the casino game as a fun or adventure, with the possibility of making money and don't get upset if you can't win.
Go into the game with the understanding that you can lose a bet without it affecting the quality of your life in any way. Take the game lightly, and definitely with humor - if you lose, it's just money.
Allocate a separate amount for the game, just as you do for going to the movies or bowling, and do not play on credit. Determine for yourself the time you can set aside for the game and the amount you can lose without regret. For example, you play after work or on weekends at a certain time, and you have a lot of money to lose.
Remember, you can always contact the administration of Pin Up Casino, if you need a break from the game. If you need a break from gambling, write a request to the online support, and we will exclude you from the active players of the site for a while.
What is RTP in a slot machine
Slot machines do not involve the use of a winning strategy. As opposed to games like poker (against live players but not against the house), where knowledge, talent and ability play a major role and can make the game profitable from a distance, slot machines are designed so that only a random number generator determines the final bets.
With all that said, the casino gets a % for its services. Need to pay their staff salaries, upgrade software, operating costs.
Absolutely all slot machines has an indicator RTP (Return to Player). If RTP =" 98%, that from the set "1 000 USD will be returned 980. They are distributed among the players at random, when the remaining 20 is the fee for the casino services. The higher the RTP, the higher the chances of winning. There are slot machines where this figure is lower, on them you can win with a smaller probability.
Betting 5 USD you can win as much as 9,000 out of those 980 or nothing at all. The main thing is to realize that, globally, players give back about as much as they bet, minus the percentage retained by the casino. Some people's luck smiles on the first bet, while others may bet several times before they get real money at Pin-Up Casino.
Where do I go for help if I have a gambling addiction?
Left alone with the problem, a player may feel helpless and powerless, snap and do things he will regret later. Do not be afraid to deal with the problem, you can always get help!
At such moments, it is fundamental to get the support of people close to you. If you do not have a family psychologist ready to support you at a critical moment, contact one of the specialized clinics, including:
New Life (https://nc-newlife.com/)
Prof-Detox (https://profi-detox.com/)
You will also be able to use the following resources:
www.gamcare.org - the website of an organization that provides counseling, advice, and practical help for dealing with the effects of gambling. Specialists can help with all stages of gambling addiction, from initial to serious. The support line: 0845 6000 133.
www.gamblersanonymous.org is a club of people united to solve their own problems related to gambling and is open for new members. It has regional chapters all over the world where former gamblers and psychologists provide assistance.
www.gamblingtherapy.org - provides support and counseling to those affected by gambling. Members of the gambling therapy group work both in England and abroad.